Brian Frain, S.J.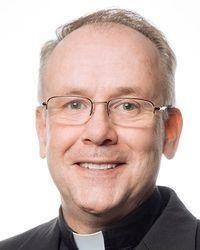 Assistant Professor of Education
College of Arts and Sciences
Additional Positions
Director, Thomas More Center for Catholic Thought and Culture
Degrees
Ed.D. Education, University of Rochester
Other Sacred Theology, Weston Jesuit School of Theology
M.A. Divinity, Weston Jesuit School of Theology
M.A. Philosophy, Fordham University
M.S. Education, Saint Joseph's University
B.A. International Relations, Saint Joseph's University
Professional Licensures and Certifications
Online Professor Certification, Rockhurst University - 2018
TCRG, An Coimisiun le Rinci Gaelacha - 1989
Biography
Brian Frain, S.J., Ed.D., is an assistant professor of education and director of The Thomas More Center for Catholic Thought and Culture.
Frain earned his B.A. in international relations and M.S. in education from St. Joseph's University. He has worked in information systems and taught Catholic middle school. In 1992, Frain entered St. Andrew Hall Novitiate, the New York Province's house of formation in Syracuse, New York. He earned an M.A. in philosophical resources from Fordham University, an M.Div. and S.T.L. from Weston Jesuit School of Theology and later a Doctorate in Education from the University of Rochester. 
His Jesuit ministry has been focused in educational initiatives. He taught catechism for middle schools, and religion, history, economics and Spanish at the secondary level. He has also taught theology and education at the university level.
Frain's current research is about the spiritual and religious identities of students at Jesuit high schools. He has conducted three waves of research and is working on a publication documenting recent trends.  
Most importantly, Frain's priestly ministry is rooted in following the charism of Ignatius Loyola, of serving Christ under the banner of the Cross, trusting in God's love for the world and God's desire that he help souls through priestly ministry, spiritual direction and working for the education of those most in need.
In his free time, Frain is involved in Irish dancing and music. He is the moderator for Na Seabhaic Rince, the Irish dance club on Rockhurst University's campus, and teaches on weekends at O'Riada Manning School in Mission, Kansas.