---

Academics

---

Programs

---

Schools

---

Academic Support

---

Resources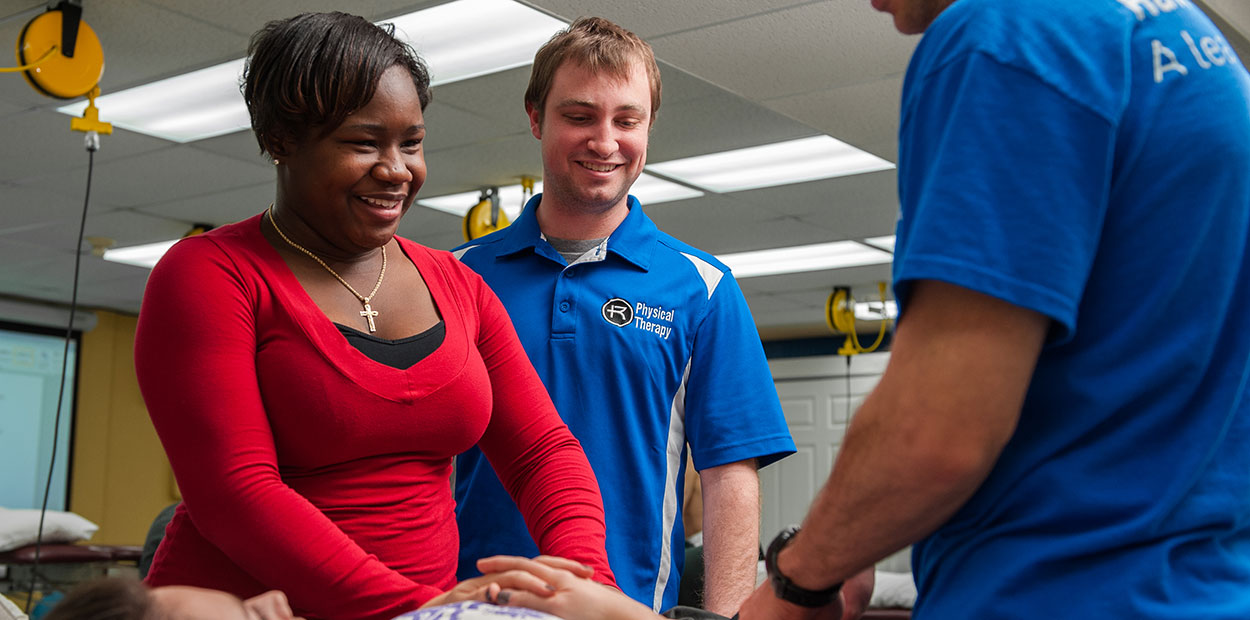 About the College of Health and Human Services
The College of Health and Human Services offers graduate and undergraduate programs in the health sciences, physics and engineering. As a CHHS graduate, you can expect to find success in your chosen field, as well as in your personal life. Here, you'll become a leader for life. A leader committed to learning, leadership and service.
Our programs combine the skills you need to succeed in today's workplace, with learning experiences that teach you how to think, not what to think.
ATTEND AN INFORMATION SESSION
---
---
Why Earn a Degree from CHHS at RU?
A degree from CHHS at RU not only includes evidence-based curricular content but is built upon active-learning techniques including simulation, hands-on activities, and service learning.
Each program offers a unique set of opportunities that encourage students to apply the concepts learned in the classroom with the real world. Our programs have partnerships with clinical sites, schools, and other community facilities for our students to take their learning to a new level. Several of these allow for student experiences outside of the Kansas City area providing a more enriching and diverse experience. International experiences are available for some programs in CHHS.
Accreditation
Each of our graduate programs were awarded full accreditation from their respective professional accrediting agency.
---
CHHS Vision & Mission
Vision
We aspire to transform and strengthen the learning, health and well-being of our dynamic society.
Mission
As a learner-centered, service and community-minded college, we develop reflective leaders in health and human services who are ethical, inclusive and compassionate professionals.
Core Values of CHHS
These seven values are the driving force behind all we do within CHHS:
Promote analytic skills and critical thinking
Facilitate leadership skill development
Advocate for social justice
Promote life-long learning
Forge partnerships within the community
Develop cultural competence
Develop ethical perspectives
SPEAKER SERIES
Each year, the College hosts a speaker on campus to discuss issues related to current trends in health or human services.
---
2019 Speaker: Sarah Mai, MOT, OTR/L
Hosted by the Department of Occupational Therapy
On Sept. 19, 2019, Sarah Mai will be presenting a talk entitled "Innovative Leadership in Community-based Practice" in Arrupe auditorium.
2018 Speaker: Interdisciplinary Panel
Hosted by the College of Health and Human Services
On Sept. 20, 2018, Rockhurst faculty from a variety of disciplines will participate in a panel discussion around the causes and treatment of concussions. Following the panel, breakout sessions will focus on clinical and K6 classroom care for concussions. PTs, OTs, SLPs and Educators are invited to attend.
2017 Speaker: Holly Godfrey, '02
Hosted by the Department of Communication Sciences and Disorders
On Sept. 28, 2017, Holly Godfrey spoke about her role as founder and CEO of Catalyst Scrubs – a fair trade medical apparel company that partners with women in need around the world to provide sustainable, fair-wage jobs.
2016 Speaker: Cole Galloway, Ph.D., PT
Hosted by the Department of Physical Therapy
On Sept. 29, 2016, Dr. Cole Galloway, physical therapist, neuroscientist and founder of the GoBabyGo! movement, discussed emerging technology he hopes will empower people to create their own world through mobility.